Detailed weapon knowledge is vital to Call of Duty success! Don't get left behind! Have all the information you need at your fingertips with Black Ops 2 Gun Utility.
Black Ops 2 Gun Utility contains everything you need to know about every assault rifle, shotgun, LMG, SMG, sniper rifle, pistol and launcher in the game! Why stop there? It also includes information on all lethal/tactical equipment and attachments.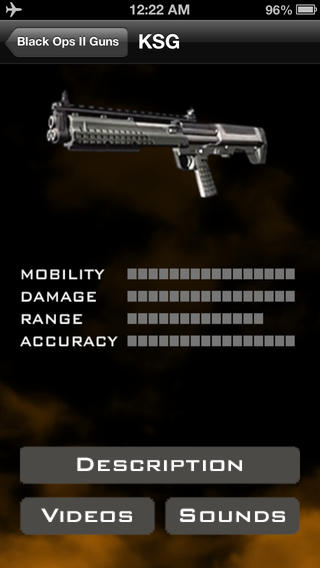 Each gun page provides detailed information about the weapon as well as stats on Damage, Mobility, Range and Accuracy, and actual XBOX live gameplay footage using each gun.
Equipment pages features unique tips and information on when to use specific gear.
This app is designed to help YOU dominate Black Ops 2.
For more information about Cloforce Apps, please visit:
www.cloforce.com
免費玩Black Ops 2 Gun Utility APP玩免費
免費玩Black Ops 2 Gun Utility App
熱門國家
系統支援
版本
費用
APP評分
上架日期
更新日期
美國 (U.S.A)
iOS
App Store
1.1
App下載
$0.99
2013-08-02
2014-09-21