CruiseSchedule is the unofficial cruise guide for the Port of Seattle. Do you have a cruise departing from the Port of Seattle or are you interested in sailing from from the Port of Seattle? Maybe you're just curious about what ships are in port. Simply tap the app. Covers all multi day and port of call cruise activity from May through September 2014.
Application Features Include:
* Fully searchable cruise schedule
* Includes departure times and terminal numbers
* Complete itineraries list each cruise's ports of call
* Scroll and zoom itinerary route maps for each cruise
* Complete deck plans and ship specifications for all vessels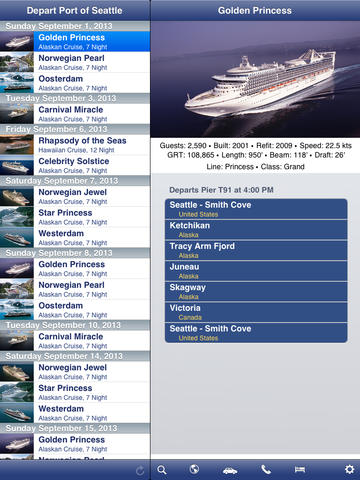 * Contact information for the port, cruise lines, customs and parking
* Port map showing cruise terminals and parking areas
* Turn by turn GPS navigation to your choice of terminal or parking garage
* No advertising or in app purchases
This application does not require a data connection. The information is stored locally on your device.
免費玩CruiseSchedule Port of Seattle APP玩免費
免費玩CruiseSchedule Port of Seattle App
熱門國家
系統支援
版本
費用
APP評分
上架日期
更新日期
美國 (U.S.A)
iOS
App Store
3.12
App下載
免費
2014-02-27
2014-09-19