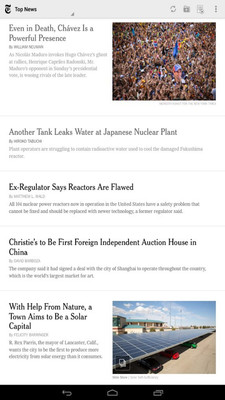 《纽约时报》(The New York Times)有时简称为"时报"(The Times)。是一份在美国纽约出版的日报,在全世界发行,有相当的影响力,美国高级报纸/严肃刊物的代表,长期以来拥有良好的公信力和权威性。
Product Features:
- Be the first to know about events as soon as they occur with Breaking News Alerts.
- Tailor your own content experience with customized widgets.
- Quickly navigate, share and enjoy The Times's world-renowned journalism and multimedia.
- Create a customized library of Times content. Save an article on your Android™ then access it later from any computer or any device.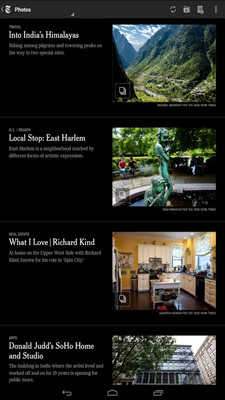 - Sit back and have your articles read aloud with text to speech.
- Read more comfortably in low-light situations with "Night Mode."
- Quickly search favorite articles to read, save and share.
- Join the conversation. View, add as well as speak your comments to articles and blogs.
- Every morning find out what's new in The New York Times with an update in the Android notification area. Expand to see a preview of the day's top photos.
- Users with a Samsung Style Pen (S Pen) can now annotate articles and save for future reference.
熱門國家
系統支援
版本
費用
APP評分
上架日期
更新日期
中國 China
Android
Google Play
3.6.1
App下載
免費
2013-12-31
2015-01-14