Get your Experian® Credit Score, plus so much more! Get notified when there's a change to your credit, see how your Score changes over time, set credit goals, and use the Score Planner to understand how life events could positively or negatively affect your Credit Score. With enrollment in freecreditscore.com, members can enjoy true hands-on Credit Score Monitoring on iPhone® and iPad®.
Not a member yet? Download the app for free, explore our credit education content, estimate your Experian Credit Score with our Score Planner, or sign up for a 7-day free trial membership to get your Experian Credit Score to see all the benefits of membership (credit card required). After trial, full membership is just $9.99 per month if you love it, or cancel anytime directly in the app with just a few taps.
The revolutionary freecreditscore.com™ app for iPhone and iPad gives members unlimited access to their interactive Experian Credit Score and Credit Report. Tap, spin and interact with your credit picture in a completely re-imagined way.
FEATURES
• Experian Credit Score – See your Score history on an interactive graph to gain insights into how and why your Score is changing. Find out which factors are helping and hurting your Score.
• Credit Summary – The Credit Summary Wheel can help you easily see the five key areas that most influence your Experian Credit Score to help you better understand your credit.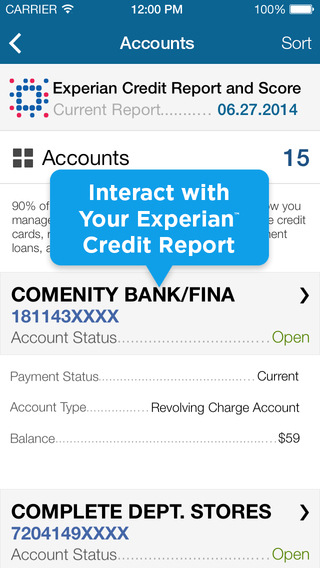 • Score Planner™ – Our interactive Score Planner lets you see how various credit decisions, like applying for a loan or paying off debt, could positively or negatively affect your Experian Credit Score. Score Planner is available to members and non-members.
• Credit Monitoring & Alerts – We alert you to any key changes such as new credit accounts opened in your name, an address change or inquiries on any of your accounts. Get notified when there is a change to your credit or your Score, or when your monthly credit statement is available.
• Credit Reports & Monthly Statements – As a member, you get unlimited access to your Experian Credit Report where you can see details on all your credit accounts, and your Monthly Credit Statement, a monthly snapshot of all your vital credit information.
• Identity Protection – We work to keep your identity your own with daily identity theft monitoring, dedicated Fraud Resolution Support to help you handle any suspicious activity, and a $50,000 Product Guarantee.* Membership includes access to a live Fraud Resolution Representative 7 days per week.
• Credit Resources – We offer the latest credit information you need to help understand your Credit Score including: Credit Education Articles, Videos and a Credit Glossary.
If you're already a freecreditscore.com member, just sign in with your Username and Password. Understanding your credit has never been easier with the new freecreditscore.com app for iPhone and iPad.
*Due to New York state law restrictions, the freecreditscore.com Guarantee cannot be offered to residents of New York.
免費玩freecreditscore.com - Credit Score, Report & Monitoring APP玩免費
免費玩freecreditscore.com - Credit Score, Report & Monitoring App
熱門國家
系統支援
版本
費用
APP評分
上架日期
更新日期
美國 (U.S.A)
iOS
App Store
2.0.1
App下載
免費
2014-09-02
2014-09-18